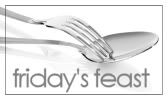 Appetizer
Invent a new flower; give it a name and describe it.
I really can't think of a flower. How about Mica's sunflower but orange in color.

Soup
Name someone whom you think has a wonderful voice.
My friend, Patrick.

Salad
On a scale of 1 to 10 with 10 being highest, how clean do you keep your car?
Hmnnnn. 10? LOL!

Main Course
How do you feel about poetry?
I used to love it
It used to love me
We parted ways
Now, I want to meet her again.

Dessert
What was the last person/place/thing you took a picture of?
I am trying to take pictures of glasses for photohunt.He,he.