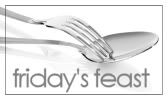 Appetizer
On a scale of 1-10 (with 10 as highest), how much do you like your own handwriting?
If to compare with my other friends' handwriting, I would say 10! Ha,ha,ha! We always kid around about our handwritings. You know, those, you should have been a doctor comments about a bad one! By the way, I was the class secretary for the longest time during highschool.
Soup
Do you prefer baths or showers?
I would like to have a bath tub. That is one of my projects in the near future. As of now, I will prefer what I have…shower.
Salad
What was the last bad movie you watched?
I could not remember but I would say that Vantage Point did not reach my expectations but it is not really a bad movie. It was still entertaining.
Main Course
Name something you are addicted to and describe how it affects your life.
How about American Idol? Every season I watch it from the auditions to the grand finale. Well it causes me to sleep real late because I am still in the office during the earlier telecast so I have to watch it at 2330H.
Dessert
Which instrument is your favorite to listen to?
Before, I wanted to have drums. I would like to use it to release my tensions. But, I do not have a music room so where can I place it? So, I guess, I will just say, a guitar. My husband plays guitar.